Information for those who require VCCI conformity verification tests
VCCI mark is EMI conformity mark of Japan in line with the CE mark of the EU, FCC mark of North America.

Membership of the VCCI Council is required to show the VCCI mark on products.

When members sell information technology equipment within Japan, they are required to conduct electromagnetic interfering signal testing and verify that VCCI technical standards have been satisfied.

Tests are conducted at a VCCI registered laboratory.

If the member obtains test results that conform to VCCI technical standards, they submit a conformity notice to VCCI, and a conformity mark can be affixed.

TELEC is VCCI registered laboratory A-0122.

Testing and issuing of test reports are possible via TELEC.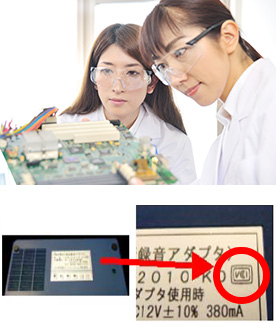 For manufacturers of information technology equipment and trading companies

Approval processes, such as FCC marking for the US and CE marking for the EU are required to sell information technology equipment overseas.
Additional high quality one-stop testing service can be offered together with VCCI conformity, because US FCC's Part 15 and the EU's EN55022 (CISPR22) testing are also ISO 17025 accredited.
Please do not hesitate to contact us if you require advice or assistance.
Equipment covered
Equipment class
Definition
Equipment examples
Class B information technology equipments
Equipment mainly designed for use in a home environment
Computers, personal computers and peripheral equipment

Liquid Crystal Display (LCD) and input equipment LAN associated equipment, facsimiles and modems
Class A information technology equipments
All information technology equipments that meet permissible limits of interference of class A information technology equipment, but do not meet permissible limits of interference of class B information technology equipment.


Standards covered
Accessment item
Test item
Specifications/Covered range
EMI
VCCI technical standards
Field strength (Radiated)
Terminal noise (Conducted)
Radiated : 30MHz - 6GHz
Conducted : 150kHz - 30MHz
VCCI test items
Class B information technology equipment- laptop computers
Radiated interference signal and conducted interference signal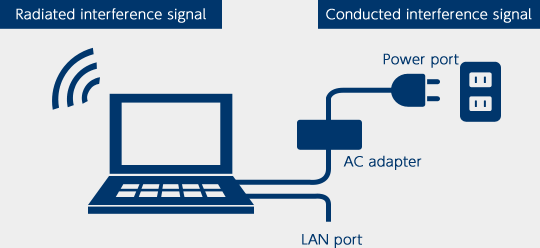 Please do not hesitate to contact us if you require advice or assistance.